Welcome to The Torrington Crier
Pictures ©DavesPix 2015 and RHS Rosemoor view more in the gallery
The Crier is an A4 32-page monthly community newsletter, distributed free-of-charge to homes and businesses throughout Torrington and District, with a circulation of 5800 copies, giving a readership of approximately 14,500. It has been established for 25 years and as the only publication delivered across the region, is an excellent way to inform the community about local news, issues and events; it is also one of the best value advertising media in the area.
The Crier is here to keep the community up-to-date with local news, information and events and is a place to share YOUR news and views. We want to hear from you so please get in touch!
Latest News
Latest Events
26th April 2017
Essential First Aid for Parents and Carers Hosted by Rotary Club of Torrington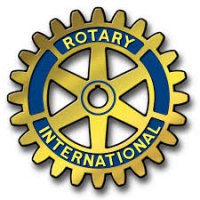 A free First Aid Course for Parents and Carers to be held at Torrington Cottage Hospital - choose 1 of 2 courses, Morning 10:00 - 12:00 or Afternoon 1:00 - 3:00 pm. Numbers are limited so essential to register first with Rotarian Rick Smale on 01805 622419 or email rick@ricksmale.com
29th April 2017
RHS Rosemoor Spring Craft and Design Fair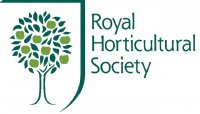 Treat yourself over the Bank Holiday Weekend with a visit to Rosemoor's Craft and Design Fair where you can browse amongst stalls of beautiful and unusual hand crafted items for home and garden. This three-day fair showcases a wealth of West Country creative talent and includes handcrafted ceramics, jewellery, clothing, handbags and glasswork, among many other hand made products.
Normal Garden Admission, 29 April - 1 May 10:00 to 16:00
30th April 2017
Merton Vintage and Classic Vehicle Rally and Fayre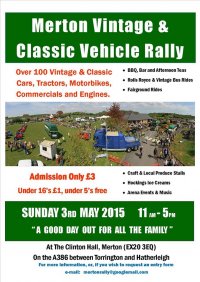 This is our 10th year!!
We have over 100 vehicles attending this year.
There is Craft and Food stalls. Arena Entertainment. Fairground rides, Wonderstruck Science, Bug Man, Birds of Prey, Gun Dog demonstrations, musical entertainment from Steve Valentine and Bideford Pipe Band. Plus so much more.....!!
Tickets are £3 pet adult, under 16's £1, under 5's are free.
4th May 2017
Great Torrington May Fair
Great Torrington May Fair!
A great day out for all the family. Please check on the Great Torrington May Fair Facebook page for times and events, https://www.facebook.com/greattorringtonmayfair/?fref=ts
Any wheelchair user/disabled person who wishes to come and see the May Fair celebrations are advised to be in the Town Square no later than 10.15am. We do try to keep seats for disabled persons outside the Green Lantern, which are allocated on a first-come-first-served basis. Due to Health & Safety Regulations it is very difficult to get wheelchair users/ disabled persons into the Town Square after 10.15am. Following the celebrations on May Fair day, help is required to put away the chairs that have been used. Anyone who is willing to help should meet in the Town Square at about 4.30/5pm. Any assistance we receive is greatly
5th May 2017
Great Torrington Round the Tree Race 2017
Torrington AAC proudly presents the annual Torrington Round the Tree Race, which is part of the Torrington Mayfair Celebrations. This is a challenging and scenic 3 mile (approximately) run from Torrington Square, down through the commons and into Taddiport. Once you've reached the tree there's a relatively flat section back along the river path with a tough climb back into the town.
We welcome runners of all abilities to take part in a piece of Torrington tradition. Either as a runner or spectator, please join us in keeping this event as strong as ever.
Entries start from 6.00pm. The evening comprises of 3 races including Juniors at 6.45pm, the Women's race at 7.00pm and the Men's race at 7.30pm.
Adult entry fee is £6, junior entry fee is £4.
Finishers will receive a technical t-shirt (any finishers beyond the first 160 competitors will have their shirts posted after the date).
As always there will be category prizes, please see the entry form for more details. Entry form can be found by following the below link, or sign up on the evening.
http://torringtonaac.org/wp-content/uploads/2017/02/Round-The-Tree-Entry-2017.pdf
6th May 2017
Great Torrington Carnival Saturday May 6th 2017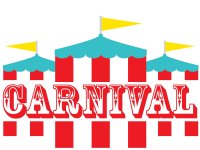 Entry forms for the Torrington Carnival are available from Xanadu, South Street Torrington, The Town Council Website and The Great Torrington May Fair & Carnival Committee Facebook Page.
Please note:
All vehicles MUST carry the appropriate insurance.
No intoxicating drinks will be permitted on any of the floats or by walking entries that take part in the procession.
Would all road users please note that various roads and streets in Torrington will be closed for a short time between 6-8pm whilst the Carnival is proceeding through the town.
Please bear with us but do expect some delay if your journey takes you through Torrington at this time.
Please do not throw coins at the floats.
Natasha Batty, Secretary,
Great Torrington May Fair & Carnival Committee
All Events >