Welcome to The Torrington Crier
Pictures ©DavesPix 2015 and RHS Rosemoor view more in the gallery
The Crier is an A4 32-page monthly community newsletter, distributed free-of-charge to homes and businesses throughout Torrington and District, with a circulation of 5800 copies, giving a readership of approximately 14,500. It has been established for 25 years and as the only publication delivered across the region, is an excellent way to inform the community about local news, issues and events; it is also one of the best value advertising media in the area.
The Crier is here to keep the community up-to-date with local news, information and events and is a place to share YOUR news and views. We want to hear from you so please get in touch!
Latest News
Latest Events
24th February 2017
Tarka Valley Railway Talk on local history by Hugh Reed
Our New Year programme of events starts with a talk on local history by Hugh Reed on Friday February 24th at 7 for 7.30pm. It is at the Puffing Billy in Great Torrington and tickets costing £3, including a buffet, are available at the Puffing Billy during opening hours, or by calling into our carriage on a Thursday.
4th March 2017
Mad Allsorts Tea Party

To celebrate our 10th birthday, we will be holding a 'Mad ALLSORTS Tea Party' at the Bluecoat School on Saturday 4th March from 2-5pm. The party will include an afternoon tea and a number of 'ALLSORTS' style activities – fun for all the family! Please come and join us if you have, or in the past have had, any connection with Allsorts. We would love to see you then.
If you want to find out more about ALLSORTS and what we get up to, visit our website at www.allsortschildrensclub.org.
18th March 2017
Appledore Singers at St. Peter's Church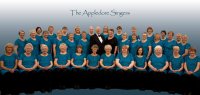 Saturday March 18th at 7.30pm
St. Peter's Church is delighted to welcome this well-known local ladies' choir to perform arrangements of songs old and new; ranging from gospel and showstoppers to Top Ten hits. The concert will also feature their small chamber group, the 'Pips' and amusing poems. The choir will be conducted by their Musical Director, Pam Beechey and accompanied by Chris Beechey, with Anthony Chambers ably compering the evening. Please come along and enjoy the music , the singing and the talent. We can promise you a most enjoyable concert. Admission on the door is £5 and proceeds will go towards the cost of a new sound system for the church.
For further information about the choir, contact 01237 420652 or see
their website: theappledoresingers.co.uk 'Seek a Smile thro' Song'
24th March 2017
Junior WHAAM - Westward Ho! & Appledore Music Showcase
We invite youth bands, singers and choirs to apply for places at this
event. Full details are given below. Following the enormous success of the first Westward Ho! & Appledore Music Showcase on 28th September 2016 there was a popular demand to showcase the talents of North Devon's youth bands, singers and choirs, featuring a broad spectrum of music from bands and individual singers, and youth theatre groups, senior schools and colleges. This event is a great opportunity for young people to showcase their musical talents in front of a live audience – to gain experience, enhance their confidence in performing and confirm that 'North Devon's Got Talent'! Junior WHAAM will take place at one of the top entertainment venues in the area – The Pier House, Westward Ho! and there will also be a grand raffle in aid of the RNLI. Doors open at 6pm and the entertainment will run continuously from 7-11pm with a short break at 9pm for the raffle. To apply or for further information, please email your name, phone number and a brief description about your music, band, singer or choir and any other details which you think may help you to be chosen for a place. The closing date for applications is Friday 24th February 2017.
Open to young people from 14 years of age. Please ask your parents for permission to take part if you are under 18 years old. For further information you may email us for our phone number.
Contact: email: noahsark@uku.co.uk
All Events >