Welcome to The Torrington Crier
Pictures ©DavesPix 2015 and RHS Rosemoor view more in the gallery
The Crier is an A4 32-page monthly community newsletter, distributed free-of-charge to homes and businesses throughout Torrington and District, with a circulation of 5800 copies, giving a readership of approximately 14,500. It has been established for 25 years and as the only publication delivered across the region, is an excellent way to inform the community about local news, issues and events; it is also one of the best value advertising media in the area.
The Crier is here to keep the community up-to-date with local news, information and events and is a place to share YOUR news and views. We want to hear from you so please get in touch!
Latest News
Latest Events
29th July 2016
Tarka Pottery Kids Holiday Clay Workshop 10am
Finding Dory - Nemo's back! Make Nemo and friends in our underwater adventure. t: 07931 306 414
30th July 2016
Iddesleigh Fete & Dog show from 12 noon
Demonstration by the North Devon Working Gun Dogs.
Family Fun dog show 10 classes rosettes to 3rd place.
Have a go Scurry.
Exclusive rides in a vintage bus to the impressive Ash House and maybe a glass of bubbly!
Horse and Cart rides; n exhibition of local interest in St James; trips up the Church tower; stalls, jumble sale; vintage vehicles; live music; cream teas, barbecue.

All proceeds to St James Iddesleigh. For more details contact: 01805 804347
6th August 2016
Umberleigh Garden Show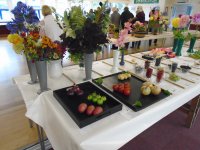 The 95th Umberleigh Garden Show will take place at the Village Hall on Saturday 6th August from 2.30pm. Admission £1 adults, children free. Classes include: fruit and vegetables, flowers, photography and crafts. Enjoy our family dog show, rural run, trade stands and famous 'Human Fruit Machine'. With a bar and our popular cream teas, there's something for everyone.
Details of how to enter the competitions are in the schedule, available free from local shops, pubs and post offices, Murch's Antiques Emporium, Umberleigh, or from www.umberleigh villagehall.co.uk.
13th August 2016
Dolton & Dowland Horticultural Society 89th Annual Show Saturday 13th August
The 89th annual show of the Dolton & Dowland Horticultural Society will be open to the public at 2.15pm on Saturday 13th August, with an entry fee for adults of 50p and children for free. Exhibits, usually in excess of 550, include: vegetables, fruit, flowers, floral art, bread, cakes, pastries, preserves, wine, handicrafts, paintings, photography and children's classes. The afternoon is one of fun and games with skittles, ice cream, hoop-la and cream teas with the presentation of winners' prizes commencing at 4.45pm.
13th August 2016
Appledore RNLI Fund Raising Guild Tea at Tapeley Park
Saturday 13th August 2-5pm
Ticket only event so please order from Pat 01271 346560 or Lowri on 01271 860699.
£8 for adults £1 for children and tickets include a cream tea, entry to gardens and entertainment. RNLI souvenirs will also be available and there will also be tombola.
20th August 2016
RHS Rosemoor Local Produce Show 20th August
Staged in conjunction with Great Torrington Horticultural Society. Enter your home grown produce into Rosemoor's very own local produce show. Categories for both adults and children, with Rosemoor Gift Shop vouchers as prizes. Pick up a show schedule from Rosemoor or call 01805 626 800. Get growing and join in the fun! From 11.30am, show opens to the public after judging.
25th August 2016
Summer Rugby Camps at Torrington RFC
Coaching by Mark Lee. Thursday 25th August 10am-3pm ages 5-14.
All abilities, boys and girls welcome. Only £10 per day! To book a place please call or text Mark Lee direct 07415 190 807
29th August 2016
Little Torrington Summer Fete & Dog Show
We welcome everyone to our summer fete on August 29th, Bank Holiday Monday. Come along to Little Torrington and enjoy our famous BBQ, craft, plant and food stalls, entertainment, family fun activities and dog show. Free entry, plenty of car parking too! All profits to support the repair of St. Giles Church.
All Events >